Armpocket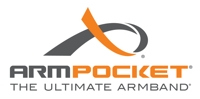 The Best Armband for Your Active Lifestyle.
What makes an Armpocket® armband the ultimate armband®? It's not any one thing. It's everything! The ultimate armband is comfortable to wear, stays put, protects your device, has enough space for a variety of items and is made of quality materials that last.
View or download the Armpocket Catalogue View our new Armpocket website
The Story
Kind of a big deal.
Ever been bruised or cut by a cheap armband? Ever broken your phone in one? Well, so had we. In a quest for a comfortable carrying solution and after years of trial and error, fine tuning, and laboratory testing; the patented, Armpocket, the Ultimate Armband was born. Sharing our passion for fitness Since 2006.

---
Features
Fitness or Fun
One classic accessory with a twist; wear it any way you like - arm, hand, wrist, bike & more.
---
Convenience Re-invented
Slim, lightweight armbands that fit even larger phones like iPhone X/8/7 Plus, Galaxy S8+, Pixel 2, Pixel 2 XL and Pixel XL,
---
Top of its Class
Sourced from only the highest quality sustainable materials and designed to outlast most phones.